A Life-Cycle Framework to Manage Collaboration and Knowledge Exchange in Open Organisation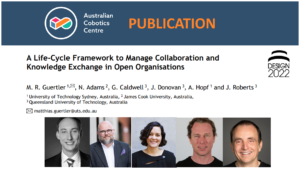 We are very proud to announce the Centre's first official publication authored by the Centre's Open Innovation Team – Dr Matthias Guertler, former CI Prof Nico Adams, A/Prof Glenda Caldwell and A/Prof Jared Donovan.
The paper was accepted as part of the International DESIGN Conference held from 23-26th May. The paper presents and evaluates the first part of a framework to manage successful collaboration and knowledge exchange across the entire life cycle an Open Organisation (OO).
You can read the full paper here: Design Conference Paper Template (cambridge.org)