POSTED: 01 Aug, 2023
Yesterday, TAFE Queensland's representatives visited the QUT Centre for Robotics (QCR) at the Queensland University of Technology's Gardens Point campus for an informative tour. Led by QCR PhD researcher Somayeh Hussaini, the delegation, including Shawn O'Sullivan, Mark Robertson, and Richard Auld, got a glimpse of the center's ongoing industry collaborations and its impact on research.
The tour focused on showcasing the joint projects between QCR and various industries, highlighting the practical applications and benefits of their research efforts. The Australian Cobotics Centre PhD researchers, Jacqueline Greentree, Nisar Ahmed Channa, and Jagannatha Pyaraka, along with Postdoctoral Research Fellow Dr. Melinda Laundon, also participated in the tour, offering their expertise and insights.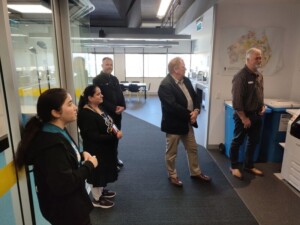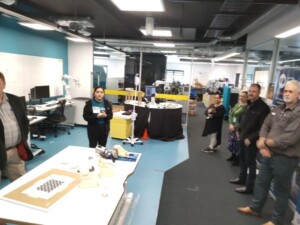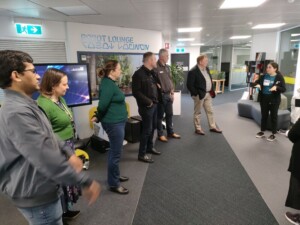 In a recent webinar, Dr. Melinda Laundon and Shawn O'Sullivan engaged in a discussion on how education and training systems can support a digitally-enabled workforce in the Australian manufacturing sector. The seminar emphasised the importance of preparing graduates with relevant skills to meet the demands of emerging technologies in the industry. Additionally, they shared the latest research findings from the Australian Cobotics Centre Human-Robot Workforce Program, led by Dr. Melinda Laundon, Professor Paula McDonald, and Jacqueline Greentree.
Watch the webinar via the link – (2) Supporting the digitally-enabled manufacturing workforce: the role of education and training systems – YouTube