WHEN:
27 Apr
WHERE:
Zoom
PhD Researcher Fikre Gebremeskel and Postdoctoral Research Fellow Alan Burden present an engaging seminar on implementing collaborative robots (cobots) in the workplace. They share their expertise on the planning, simulation and management of cobots while outlining this emerging technology's social and technical aspects.
During the interactive part of the seminar, participants had the opportunity to provide their input and ask the researchers any questions they had. Learn how cobots can enhance productivity, reduce costs and improve safety in the workplace while gaining practical knowledge on their implementation, based on recent research completed in their research program, Designing Socio-Technical Robotic Systems.
About the presenters
Alan is a Postdoctoral Research Fellow in the Designing Socio-Technical Robotic Systems Program (Program 3). Alan will be working on research to embed holistic design as a critical factor in creating a seamless integration of humans and machines working together. The aim of this is to improve human work conditions and environments, increase effectiveness and efficiencies in production, as well as workforce acceptance. Prior to starting with the Australian Cobotics Centre, Alan completed his PhD in Design Robotics at QUT. His previous experience includes professional roles in architecture, UX, photogrammetry, and digital fabrication. Alan has a particular interest in Mixed Reality technologies, UX and Interaction Design with robotics, and creative industries including bespoke manufacturing.
---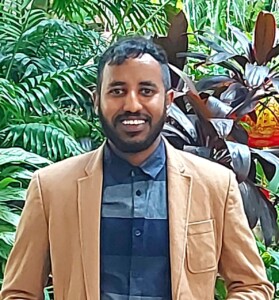 Fikre received his bachelor's degree in electromechanical engineering from Addis Ababa Science and Technology University and his master's degree in space and engineering systems from the Skolkovo Institute of Science and Technology. His previous experience includes automation, industrial robotics, and cobotics. Fikre is currently a PhD student at the University of Technology Sydney in the School of Mechanical and Mechatronic Engineering, as well as a member of the UTS Advanced Manufacturing Centre. His project is the Design Factors: Integrated Design of Collaborative Robots, Products, and Manufacturing Environments research project as part of the Designing Socio-Technical Robotic Systems Program. He is interested in studying cobotics in a manufacturing environment from a systems engineering and socio-technical perspective.