Project based at
Lead Partner Organisation
Cobots Manipulation with Augmented Mobility
Complex manipulation tasks in unstructured, dynamic, large and often outdoor environments require robots that can be mobile. This project will work towards enabling human-robot interaction with mobile collaborative robots equipped with multiple on-board sensors. The project will address together the multi-sensory robotic perception, navigation and situational awareness problems of the mobile base, and will develop a framework to achieve collaborative tasks with the operators and the cobot actions while moving.
The project will exploit existing biomechanical models in conjunction with data-driven learning algorithms to optimise the interaction through robotic perception. This project has the potential to facilitate welding in unconstrained environments and complex loading or assembly tasks. A testbed for an industrial application will be developed to validate the research outcomes and multiple mobile manipulators will be available for this project.
Project Update – May 2023
Conducted a thorough literature survey to find the challenges and gaps in literature.
Designed a simulated experiment for a learning from demonstration approach with probabilistic modelling and deep reinforcement learning.
Conducting experiments with the learning framework to improve upon the demonstrated trajectories.
A Pybullet simulation of the demonstration:
Sampled trajectory after using a probabilistic model: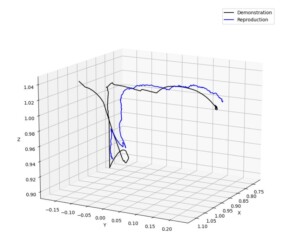 Research activities
This research project may involve the following activities:
Context studies to establish candidate frameworks for collaborative human-cobot mobile manipulation
Development of sensing, perception and navigation methods for mobile manipulators interacting with humans
Deployment and evaluation of the collaborative human-cobot mobile manipulation framework in a welding or assembly task
Outcomes
Upon completing this research, we expect to develop:
New theory and methods for mobile manipulators interacting with humans
Efficient sensing, perception, and navigation methods
A framework for collaborative mobile manipulation
---