POSTED: 07 Sep, 2022
Continuing our celebration of 1 year in operation, today we are looking at one of the first projects of the Centre – the Shorts project with InfraBuild. The project is just about to complete its first phase in which a proof of concept has been completed.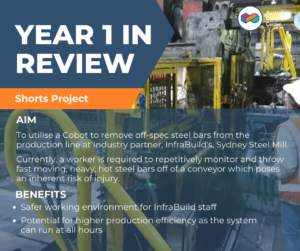 The "Shorts" project with Infrabuild aims to improve the health and safety of steel factory workers by utilising a Cobot (collaborative robot) to remove off-spec steel bars from the production line. Currently, a worker performs this job which requires repetitively monitoring and throwing fast moving, heavy, hot steel bars off of a conveyor which poses an inherent risk of injury.
Infrabuild's production line is unique, in that they produce a wide range of steel bars with different shapes and sizes. While this makes them unique capability-wise globally, current off-the-shelf solutions for automating this detection and removal process cannot deal with the variety of bars. Hence, our researchers and engineers are aiming to develop a flexible system using a Cobot with inbuilt and external sensors that shifts away from traditional automation approaches and can adapt to the different steel bars that they manufacture – even new ones in the future – while working safely around workers.
The project had two distinct phases of initial work to prove that a cobot could complete the task:
The identification of the shortest bar in the group via an automated system
The use of a cobot to remove the bar from a moving conveyor belt
Benefits
providing safer working environment for their staff by removing humans from the dangerous part of the process
potential for higher production efficiency as the system can run at all hours
Project Team
Andrew Thomas, InfraBuild
Mark Christianson, InfraBuild
Fred Sukkar, Australian Cobotics Centre Postdoctoral Research Fellow (UTS)
Dasun Gunasinghe, Australian Cobotics Centre Lead Engineer (QUT)
Gavin Suddrey, Australian Cobotics Centre Engineer (QUT)
Teresa Vidal-Calleja, Australian Cobotics Centre Research Program Lead (UTS)
Jonathan Roberts, Australian Cobotics Centre Director