POSTED: 28 Aug, 2023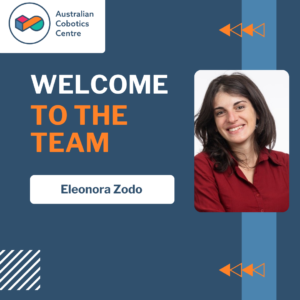 Let's introduce Eleonora Zodo, our newest team member. Eleonora is a PhD researcher at QUT (Queensland University of Technology), actively involved in the Human-Robot Interaction program.
This program focuses on critical aspects of human interaction with robotic systems, including mutual awareness, visualising robotic intentions, and developing rapid collaborative robotic solutions. The program is built on understanding collaborative work patterns and specific task domains and aims to create practical Human-Robot Collaboration (HRC) solutions and support industry adoption.
Eleonora's research project centers on establishing safe and efficient #HumanRobotcollaboration. The work has practical implications, from manufacturing to operating theaters, and involves partners like Cook Medical and Stryker.
We are pleased to welcome Eleonora to the team and anticipate her valuable contributions. Join us in welcoming Eleonora aboard!
Welcome Eleonora!