POSTED: 21 Aug, 2023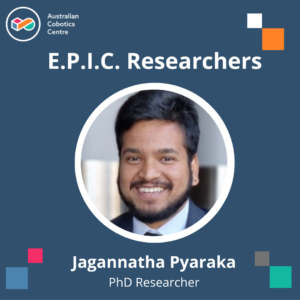 Jagannatha Pyaraka is a PhD researcher based at Swinburne and his project is part of the Biomimic Cobots Program at the Australian Cobotics Centre.
He is excited to work in the field of Robotics/Automation that serves and inspires society in leading a simple and better quality of life.
We interviewed Jagannatha recently to find out more about why he does what he does.
Tell us a bit about yourself and your research with the Centre?
I finished my Bachelor of Engineering (Electrical and Electronics) degree from GITAM University in 2018 and master's in professional engineering (Robotics and Mechatronics) in 2021 from Swinburne University of Technology. Following the undergraduate degree, I worked as a Senior QA Automation Engineer at NTT DATA Services. Now I am pursuing my PhD in field of robotics.
My research under ACC is centered on developing a learning framework for cobots through biomimicry digital twinning. I am pioneering a learning from demonstration methodology for collaborative robots using digital twin technology. This project addresses several critical challenges: enabling robots to adapt to varied operational conditions for a given task, facilitating their learning of diverse tasks in a manner analogous to human learning, and significantly reducing the necessity for human intervention in the robot's learning process. I am confident that the advancements from this research will pave the way for more intuitive robot-human interactions, enabling robots to understand tasks more holistically and perform them as instinctively as humans.
Why did you decide to be a part of the Australian Cobotics Centre?
As a postgraduate, my decision to become a part of the Australian Cobotics Centre is fuelled by the extraordinary prospects it offers. The Centre's vision to revolutionize the Australian manufacturing industry through collaborative robotics resonates deeply with my desire to contribute to impactful change. The opportunity to enhance manufacturing efficiency, and prioritize safety aligns perfectly with my aspirations for a meaningful and dynamic career.
The Centre's commitment to cutting-edge research and innovation is particularly enticing. Being at the forefront of technological advancements in collaborative robotics would not only allow me to engage with groundbreaking ideas but also give me the chance to be part of a transformative movement. The interdisciplinary approach embraced by the Centre is equally appealing, as it would enable me to explore diverse fields, fostering a versatile skill set that's crucial in today's ever-evolving landscape.
The prospect of industry collaboration is another significant factor in my decision. The Centre's connections with industry partners and its dedication to training researchers and engineers with practical skills means I would be well-prepared to transition seamlessly into the workforce. Moreover, the people-centric and inclusive environment the Centre promotes assures me of a supportive community where I can grow both personally and professionally. Overall, ACC offers a unique chance to merge my academic pursuits with real-world impact, making it an inspiring destination to embark on my journey toward a fulfilling career.
What project are you most proud of throughout your career and why?
During my final semester, I undertook an internship at a company that exposed me to a real-world challenge in the realm of autonomous vehicles. To address this issue, I meticulously designed and built an Arduino-based data logger capable of capturing serial data communication between two subsystems. My contribution encompassed both hardware and software elements, resulting in a robust end-to-end system. The finalized product was a turnkey solution that industry professionals could seamlessly utilize for similar scenarios.
What do you hope the long-term impact of your work will be?
The goal of my work is to make robots work more like humans. By improving how they learn and interact, we hope to make human-robot teamwork smoother. In the long run, this means robots could do tasks just as naturally as humans, changing the way we work together in many fields.
Aside from your research, what topic could you give an hour-long presentation on with little to no preparation?
Autonomous systems in Everyday Life