POSTED: 15 Mar, 2023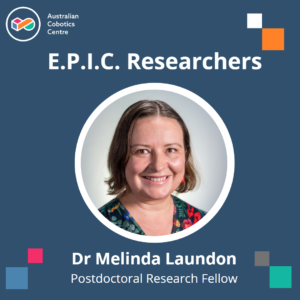 The Australian Cobotics Centre has some incredibly E.P.I.C. researchers. Each month we will be profiling a different researcher. Dr Melinda Laundon is a Postdoctoral Research Fellow with our Human Robot Workforce program and is based at QUT.
We sat down with Melinda recently to find out more about why she does what she does.
Tell us a bit about yourself and your research with the Centre?
I'm part of the Human-Robot Workforce research program. We have a broad scope to research the changing skills, capabilities, and composition of the Australian manufacturing workforce, including the influence of cobots on jobs, workers and organisations. My research is investigating attraction and retention of manufacturing workers, from the perspective of sector stakeholders, managers and the workers themselves. I hope it will help to understand how advanced technologies can change the way we attract people to careers in manufacturing, and help to address some of the crucial skills shortage issues in Australian manufacturing.
Why did you decide to be a part of the Australian Cobotics Centre?
I jumped at the chance to work with great researchers from many different disciplines, as well as the opportunity to engage with industry partners on issues that are immediately important and relevant. I could also see strong parallels between the Cobotics Centre's commitment to sustainable growth and quality jobs in manufacturing, and QUT's Centre for Decent Work & Industry, where I co-lead a research stream on sustainable transitions between education and work.
What project are you most proud of throughout your career and why?
I'm proud of my work with the Australian Research Council and universities to help academics and PhD students to plan for and achieve an impact on society from their research.  I'm also proud of my roles as a mentor and assessor for Higher Education Academy (HEA) Fellowship schemes at QUT and other universities. HEA Fellowship emphasises the value of reflection, professional development to improve student learning, and sharing good practice with colleagues – all of which apply to research as well as university teaching.
What do you hope the long-term impact of your work will be?
I came to academia after a policy career in the Australian Public Service, including stints with the Australian Communications and Media Authority and the Australian Research Council. My PhD in management examined employees' fairness perceptions at work, especially in relation to reward and recognition. I started my academic career with the intention of not only doing good scholarly research but also having a practical impact on organisations and public policy. I hope that my research helps to inform policy and practice by contributing deeper understandings of workers' perceptions and needs.
Aside from your research, what topic could you give an hour-long presentation on with little to no preparation?
This is a tough one! I might have to break it up into a few smaller lectures on different topics including Scottish and Australian crime fiction, Australian slow fashion labels, and music played on Triple J in the late '90s and early 2000s.