POSTED: 25 May, 2023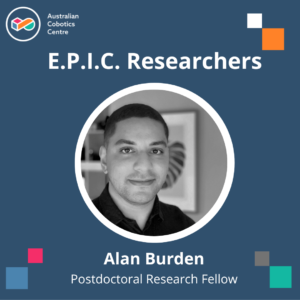 The Australian Cobotics Centre has some incredibly E.P.I.C. researchers. Each month we will be profiling a different researcher.
Alan is a Postdoctoral Research Fellow in the Designing Socio-Technical Robotic Systems Program (Program 3). His research works to embed holistic design as a critical factor in creating a seamless integration of humans and machines working together. The aim of this is to improve human work conditions and environments, increase effectiveness and efficiencies in production, as well as workforce acceptance.
We interviewed Alan recently to find out more about why he does what he does.
Tell us a bit about yourself and your research with the Centre?
My background is in three areas – science, architecture, and in human factors design. I worked in all three industries, and I try to bring the experiences to my research. In the ACC, I research socio-technical systems – which focus on the connections between people, the technologies they use, their activities and the use of space. This area of research is growing rapidly along with other areas linked to cobotics. The long-term impact of my research will add to the knowledge and help forge a future direction for interactions between humans and robots, particularly within workspaces.
Why did you decide to be a part of the Australian Cobotics Centre?
The curiosity of new technology mainly. I wanted to work with a multidisciplinary team looking at areas I was also interested in exploring. I am interested in emerging technologies such as extended reality (XR) and the next generations of those technologies. Some of these technologies allow connections between our physical environments and the digital realm, with the digital realm becoming incredibly represented as a 3D world. These technologies aren't just the domain of game design, computer science, or engineering – but increasingly a blend of all research disciplines. I think that's why so many of us now collaborate with different researchers and industries from diverse fields – because the technology has the potential to impact all of us.
What project are you most proud of throughout your career and why?
I don't dwell on many past projects, but some are memorable for a few reasons. I've done a few projects that could be considered interactive or artistic installations, and it was interesting to see how people engage with something you've designed – especially when it's not the way you thought anyone would try. It's always surprising and teaches you to squash any assumptions.
What do you hope the long-term impact of your work will be?
I hope my work will help the frameworks we need for cobotics. Particularly when bringing cobots into existing workplaces. That will be where most cobots will have the most impact in Australia. In the future, I also believe there is a capacity to research the effects that cobotics and energy technology will have on workplace architecture, human well-being, and user experience. Those are areas I'd like to be involved in going forward.
Aside from your research, what topic could you give an hour-long presentation on with little to no preparation?
Haha, probably a short list of things considered trivial or geeky. Anything technological, English Premier League, The Simpsons (the 'golden era' of seasons 2 to 10), Lord of the Rings or 80s movies. Closer to research, like data visualisation, and graphic design, and could talk about that for a bit.