WHEN:
06 Jul
WHERE:
Zoom
Collaborative robots (cobots) are specifically designed to work alongside humans, offering the potential for increased efficiency, flexibility, and safety in various industries. However, there exists a noticeable gap between the concept of human-robot collaboration and the practical implementation of cobots in many industry scenarios. Specifically, it is common for cobots to be utilised in a similar fashion as industrial robots, not interacting and totally separated from humans on the factory floor.
In this talk Dr. Marc Carmichael will examine the challenges associated with human-robot interaction. Ideas for overcoming these challenges with techniques such as intuitive physical interaction and action sequence recognition, and how this can lead to unlocking the potential of human-robot interaction in industrial settings will be discussed.
About the Presenter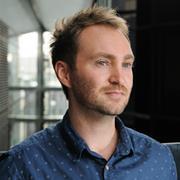 Marc Carmichael is a Senior Lecturer and an experienced robotics researcher and developer who is passionate about the realisation of robotic technology that aids humans in performing tasks. He has a particular interest in robotic systems that provide physical assistance to users during laborious activities, enabling humans and robots to collaborate on physical tasks to meet the emerging needs of industry and society. He has led the development of several novel robotic systems to address real-world problems in a variety of industries and domains.
Marc is a core member of the UTS Robotics Institute (UTS:RI), where he is the Director of Teaching and Student Engagement. He leads the UTS:RI human-robot interaction (HRI) lab, and champions many UTS-based initiatives to educate students and industry on the use of robotics. His educational outputs include several undergraduate engineering subjects, as well as industry-facing micro-credentials. His projects include collaborations with businesses and partners including: NOKIA, OMRON, NSW Centre for Work Health and Safety, Rookwood General Cemetery, and more. He is currently an academic member of the Australian Cobotics Centre with the aim of increasing the utilisation of collaborative robotics by Australian businesses.