POSTED: 13 Mar, 2023
The Centre has been lucky enough to have two undergraduate students from QUT, Sabrin Daniel and Melanie Lay, working on projects with us over the last couple of months as part of QUT's Vacation Research Experience Scheme (VRES).
VRES allows students the opportunity to participate in a research project for approximately 6-10 weeks. This opportunity is particularly valuable if they're interested in pursuing a research degree! 
---
We sat down with Sabrin and asked her a little more about her experience: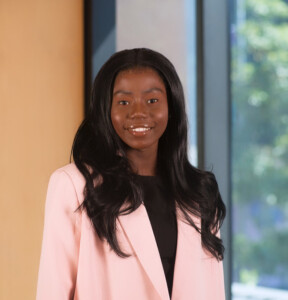 Why did you decide to participate in QUT's VRES?
Throughout my degree, I've had a particular interest in Social and Organisational Psychology. As a result, I thought this was the best way to gain insight into organisational issues such as teamwork and productivity, as well as gaining experience in conducting a literature review. Moreover, it is clear that post COVID-19, advancements in technology is changing the way businesses meet client and consumer expectations, therefore I was curious to understand how this would impact me as a HR professional. Specifically, how HR will need to adapt its policies and processes to support companies in this transition.
What did you learn that you think will be most useful in your future work or studies? 
The process in identifying patterns within the literature and being able to make appropriate conclusions about their impact to the topic at hand was a great skill that I learnt. I believe that this will help me in my future studies. As well, this is a skill that helps to identify what exists in the literature and what the gaps are to be able to implement appropriate policies and HR practices. Specifically in my research, a common consensus is that human-robot collaboration (HRC) requires commitment, capability and fulfilment and issues such as communication, trust and interdependency can hinder HRC. As a result, reading the literature allowed me to understand how HR professionals can address these issues which will be useful for me in the future.
What did you enjoy most about your project? 
I thoroughly enjoyed attending the Australian Cobotics Centre (ACC) launch, as I was able to hear industry partners speak about how cobots present opportunities for their industries, along with the anticipated challenges. Additionally, I was fortunate enough to be able to do a site visit at Urban Arts Precinct (UAP) with my mentors, Melinda Laundon and Greg Hearn. Both of these events helped in providing context for me to understand my research. Finally, I was fortunate enough to have mentors that provided me with resources to understand an efficient and systematic approach to conducting a literature. I believe their feedback and guidance throughout the process made this VRES project thoroughly enjoyable.
What would be the next steps in your project if it was to continue? 
The next step in the process is to identify and focus research questions based on the findings of my research.
---
Meet the VRES Students
Sabrin Daniel worked with the Human-Robot Workforce research program.

Her research focuses on Work crews and cobots: the future of work. Specifically, a literature review on, trends in cobotic adoption, how team dynamics will be impacted and the possible advantages and challenges to cobotic adoption trends in.

She is currently an undergraduate at QUT studying a dual degree; a Bachelor of Behavioural Science (Psychology) and a Bachelor of Business (Human Resource Management Major).

Melanie Lay worked with the Designing Socio-Technical Robotic Systems Program.

Her research aims to create digital twins to support human-robot collaboration. The outcome of this will include modelled 3D assets which can be used to digitally simulate a real-world manufacturing environment.

She is currently an undergraduate student at QUT, studying a double degree of Bachelor of Design (Architecture)/Bachelor of Engineering (Mechatronics).