POSTED: 09 Sep, 2022
Recently we interviewed one of our E.P.I.C. researchers from Swinburne University of Technology, Associate Professor Mats Isaksson, co-Lead of the ''Biomimic Cobots' program in the Centre. Mats shared some of his career highlights so far, and a little about his many different research roles!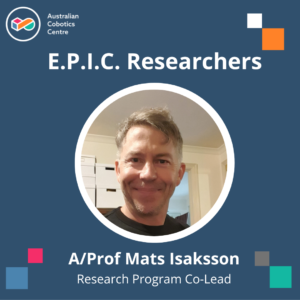 Tell us a bit about yourself and your research with the Centre? Include the long term impact of what you are doing
I grew up in the north of Sweden, close to the Arctic Circle. It is an interesting place where the sun never sets in the summers (and hardly rises in the winters). I did my undergraduate and MsC at Lund University, specialising in Automatic Control. After finishing my MsC in 1997, I began working for the motion control department at ABB Robotics in Sweden.
After 10 years at ABB Robotics, Sweden, I relocated to Newcastle, Australia. After working for my own IT company for a year, I was contacted by Boeing who together with ABB offered me a very generous opportunity for a PhD candidature. The PhD project targeted investigating the feasibility of a novel parallel kinematic robots for aerospace applications and was carried out at the Institute for Intelligent Systems Research (IISR) at Deakin University in Geelong.
After finishing my PhD, I worked for three years at IISR before starting at Swinburne in 2016. I am currently an A/Prof at the Department of Mechanical and Product Design Engineering where I am the unit convenor for Control Engineering. I am also the program leader of the Intelligent Robotics Program at the Manufacturing Futures Institute and the manager of the Intelligent Robotics Lab, which I founded in 2021. Having an industrial background, I have always focused on industry collaborations and during my last three years at Swinburne I have been awarded above $12M in funding for such projects.
Why did you decide to be a part of the Australian Cobotics Centre?
Currently, my main research focus is medical robotics and I am working with Cambridge Medical Robotics and Mulgrave Hospital on projects targeting the ergonomic benefits of robot-assisted laparoscopic surgery. I am also the principal supervisor for three PhD candidates whose projects target the use of collaborative robots in medical applications. One project is a collaboration with Baker Heart Institute targeting the use of collaborative robots for teleoperation of heart ultrasound examinations. I am also researching and developing systems for autonomous ultrasound examinations, robotic photobiomodulation therapy, and skin cancer detection. As so much of what I am doing involve collaborative robots and industry collaborations, becoming a member of the centre was a perfect fit for me. I am very excited about learning from colleagues in this field and supporting the robotization of Australian industry.
What project are you most proud of throughout your career and why?
One of my longest and most interesting projects during my time at ABB Robotics was to develop robot force control functionality. The entire project, from low-level control loops to designing a user interface, were done by myself and one other colleague. This was quite satisfying as in a large company you typically only provide one piece of the puzzle. As far as I know, ABB was the first company including force control functionality in their industrial robots, which enables lead-teach programming and advanced assembly and machining applications. I am also very proud of leading the IMCRC Tradiebot project where a small team integrated 3D scanning, 3D printing, advanced robotics, and the development of a novel polypropylene composite filament, to build a fully working prototype for automatic repair of car headlights.
What do you hope the long-term impact of your work will be?
Although some larger Australian companies are in the frontline of robotics integration, the general impression I get when visiting industries is that the level of automation is low compared to northern Europe. This is particularly true for SMEs. Although the increased safety of cobots makes them faster to commission, developing a cobot cell still requires significant know-how. My hope is that the Cobotics Centre can contribute in developing methods that reduce the requirement for expert knowledge and traditional programming skills when developing a cobot cell.
Aside from your research, what topic could you give an hour-long presentation on with little to no preparation?
I can talk about many things such as being bitten by sharks and attacked by Cassowaries but not sure if anyone would care to listen ?